What is a hybrid event? We explain the benefits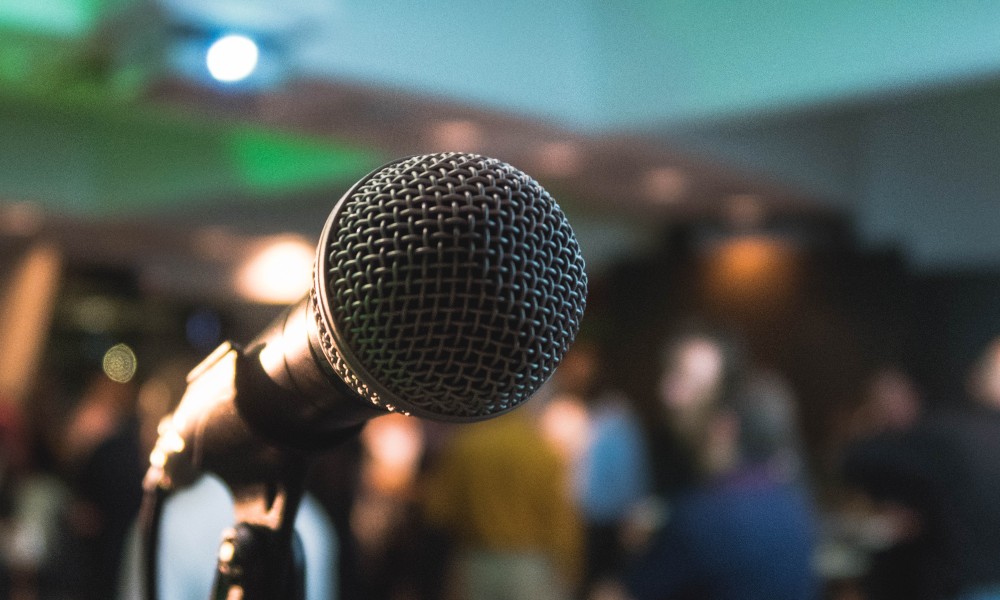 For event planners, combining a digital audience to event proceedings isn't a new concept. Streaming an event online or adding event-specific social media messaging helps reach a wider audience. Hybrid Events go a step further, connecting you to audiences in the room and across the world. And as COVID-19 continues to impact the event industry and the ability for large groups of people to gather, hybrid events should form part of your event strategy for the future. We'll explain how and why here…
What is a hybrid event?
Hybrid events are meetings, conferences, workshops and even trade shows that combine a live, in-person audience at a venue and a virtual audience that joins in via a virtual conferencing platform. In 2020 Hybrid events have gained further popularity due to the COVID-19 pandemic, offering businesses the chance to continue meeting with large audiences virtually as well as in-person from a safe distance.
5 Benefits of hosting a hybrid event
While hybrid events may put some event planers outside of their comfort zones with extra audiovisual and software elements to get used to, there are several great benefits for you and your audience. Here's our 5 top benefits for hosting a hybrid event.
Increased audience reach
With the virtual element of your hybrid event you have the potential to reach a far broader audience online. Individuals that would need to travel far to attend, or those new and unsure of the benefits of attending an event in person can sample your event virtually.
Reduced environmental costs
While face-to-face meetings are still important, going hybrid is a great way to accommodate attendees who might feel guilty about travelling, and would rather reduce their personal carbon footprint. For businesses looking to reduce their environmental impact, hybrid events can be seen as a positive strategy and a step in the green direction.
Reduced travel costs
Travelling to meetings and conferences can quickly add up as a significant business cost, resulting in one of the main reasons for your audience not making it there on the day. This can make it hard for businesses hosting events in more rural places outside of commercial centres. With hybrid events you can attract audiences from those big cities without the caveat of long distance of travel.
Engagement metrics
Another benefit of hybrid events is the potential data insight your conferencing software can provide. Traditional events would use head counts and satisfaction surveys to identify audience engagement. With a hybrid event you can potentially measure engagement on their interactions throughout the event, helping to make improvements for the future. Plus once the event is over, all of the hybrid event content can be re-used for marketing purposes.
Safer for social distancing
With hybrid events you can continue to reach the same audience event in times when large gatherings are not permitted. By facilitating a smaller live audience at your venue with the social distancing requirements in place, the remaining audience can join in and engage remotely. Always check that the venue has revised attendee capacities for social distancing or see if they have virtual tours to help scope out and create hybrid-friendly event layouts.
How does a hybrid event work?
With a hybrid event you have two key elements, the live, in-person part of your event hosted at a venue and the virtual component streamed online via conferencing software.
The in-person element of your hybrid event will be much like a traditional event, you'll have a host or presenter and an in-person audience there in the same room. The hybrid element comes in with your virtual audience, connected remotely and able to interact with the activities of the event.
For your hybrid event to run successfully, make sure you have a venue that has the audiovisual setup needed to handle your needs and a space that can safely accommodate your in-person audience.
Hybrid Event Management experts
Event Exeter offers a variety of hybrid and virtual event solutions in partnership with Warwick Event Services. From event live streaming, fully-branded film and presentation studios in our venues, our award-winning event management can extend your live event to reach a global audience.