Explore Exeter's Historical Landmarks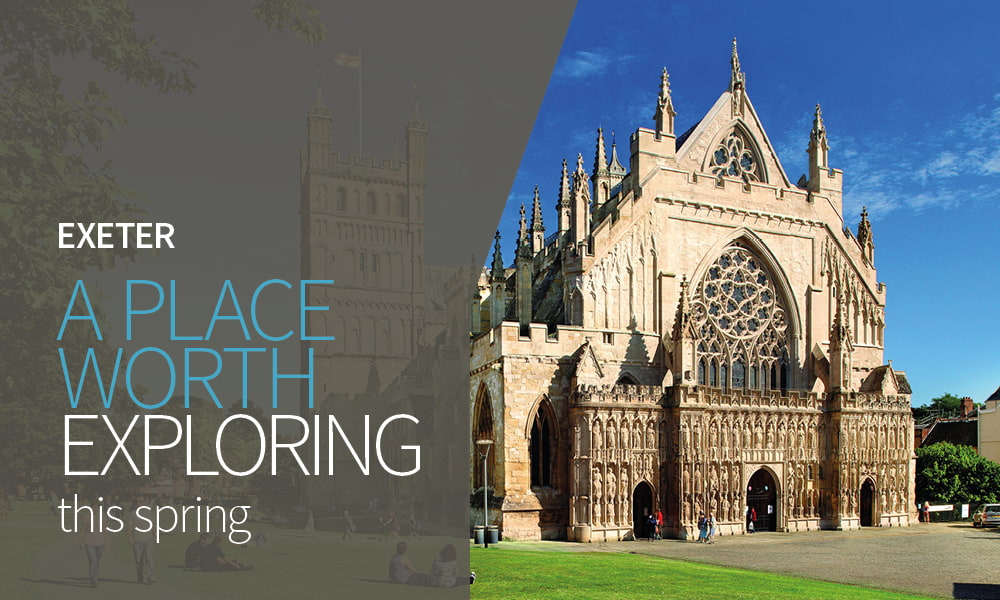 There are few cities that offer the rich history of Exeter. Settlements here date back millennia and the Romans made it an important trading centre and military outpost. So for history buffs, a stay at a bed and breakfast in Exeter offers plenty to enjoy.
And with plans to uncover the remains of the old Roman baths near the cathedral we thought a quick review of some of Exeter's historical landmarks would inspire you to get out and explore the city during your stay at our bed and breakfast in Exeter.
Exeter Cathedral
No visit to Exeter would be complete without a visit to Exeter Cathedral. With its imposing architecture this is one of the most beautiful religious buildings in the UK, and home to longest uninterrupted vaulted ceiling in England. Once you've toured the cathedral and seen its stunning astronomical clock and 17th century organ, you're perfectly situated to enjoy lunch on Cathedral Green.
Rougemont Gardens
A leisurely stroll from your bed and breakfast in Exeter, these beautiful gardens incorporate two historical points of interest: Rougemont Castle and parts of the Roman walls. Now the gardens are a favoured spot for people to lounge in during the summer and soak up the sun, but they were originally part of the defensive ringwork of Rougemont Castle. The castle was originally built by William the Conqueror in in 1068 in the aftermath of a local rebellion. The castle is even mentioned in Shakespeare's Richard III.
The Ancient City Wall
Exeter is home to one of the most well-preserved defensive city walls in England. Since the Romans founded a military outpost here in the 1st century AD their impressive walls have been an enduring feature of the city. A walk around the circuit of the wall , which essentially rings in the city centre is not only a pleasant way to spend a sunny summer afternoon during your stay in a bed and breakfast in Exeter, but also takes in many other historical points of interest.
St. Nicholas Priory
Once part of a Benedictine priory destroyed in the Dissolution, St. Nicholas Priory is now a faithfully restored Tudor house which visitors to Exeter can explore. The building has been restored and decorated using the same methods and materials used 500 years ago but the actual building is more than 900 years old. There are Elizabethan artefacts to view as well as costumes, toys and games which give insight into Tudor life.
Medieval Exe Bridge Ruins
This is one of Exeter's many monuments to the Middle Ages. You'll find the remains nestled in a small park down by the river on the edges of the city centre. Still an impressive structure the bridge (which would have been more than double the remaining length) was a marvel of engineering in its day. The remains of St. Edmund's Church also stands along the bridge. So if you fancy a summer break with some history and culture thrown into the mix our bed and breakfast accommodation in Exeter offers fantastic value and easy access to a historical treasure trove.
Stay in our budget-friendly bed and breakfast and room only accommodation , nestled amidst 300 acres of stunning botanical gardens on the Streatham campus and in easy reach of Exeter City Centre and the beautiful Devonshire countryside and coastline. For more information about our bed and breakfast in Exeter, and to book your stay, contact us today.
Updated blog post. Originally posted 6/12/18