Alex Makes MiaList 2019 Shortlist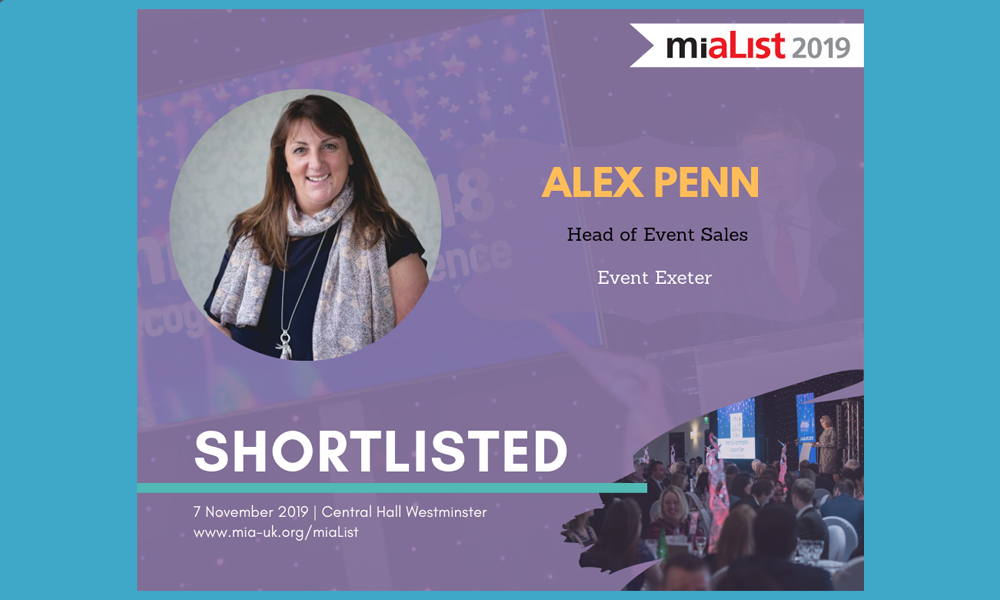 The team at Event Exeter were hugely proud and not surprised, to learn that their very own Head of Event Sales, Alex Penn, has been shortlisted for the coveted miaList 2019
Shining a light on the very best talent in the events industry, the list aims to recognise those who continuously go above and beyond the call of duty for their organisation - a trait certainly attributable to Alex.
An Ambitious Vision
Alex joined Event Exeter back in 2014, bringing with her an abundance of energy, enthusiasm and most of all ambition. Ever since then things have gone from strength to strength. Spotting the potential for the business, she set the bar high with her ambitions and the benefits are now being reaped.
In just 5 years, she has proven her abilities and by enhancing the skills of the team has managed to reposition Event Exeter as a major player in the events industry, both at home and internationally.
For Alex, building customer relationships has been the key to her success – a happy customer is a loyal customer.
Stephanie Dodd, Event Director at Media Clash said,
'Alex consistently brings a level of detail, creativity and attention that makes us feel special as clients and genuinely helps the event be the best it can be. This is not always expected from a venue that holds so many events, and I believe this level of care is given to each of Alex's clients.
Our working relationship has gone from strength to strength over the years and we have developed a true partnership, it's this that has encouraged us to commit to a further long term agreement at the venue. Alex is a huge asset and we just love working with her!'
A Source Of Inspiration
In Alex's case, the door really is always open and the wider team regularly look to her for support and guidance. Her wealth of knowledge and experience is widely respected and opinion often sought. What better way to inspire others than to be named amongst the Top 100 most influential women in Exeter, as she was back in 2018.
Inspiring and encouraging her team members is second nature to Alex. When asked about her experience of working with Alex, youngest team member Katharine Millar said:
'"No one remembers meek and mild" , were Alex's immortal words to me in an attempt to bring me out of my shell. It worked. She always knows exactly what to say to ensure everyone is doing themselves justice.
A day in the office with Alex is always good fun – she persistently puts time aside to train me, even when she is at her busiest. She knows how to get the balance between formal training and letting me work it out for myself just right – although I suspect the latter is sometimes simply to see what happens… In my opinion she definitely deserves this award!'
Keen to share her knowledge within the academic arena, Alex has recently taken a voluntary role with the Career Mentor Scheme at the University of Exeter. Pairing professionals with current students, this valuable scheme offers students valuable insights into the industry and one to one career and employment advice.
In recognition of her high standing in the sector, not only within the University of Exeter, but across the business community in the South West, Alex was invited to take up the role of Chair of the Exeter and Devon Hotels and Restaurants Association in March 2018.
It goes without saying that the team at Event Exeter and indeed colleagues from the wider University are immensely proud of Alex's nomination and wish her luck for the celebratory lunch in November, where the final list will be announced.