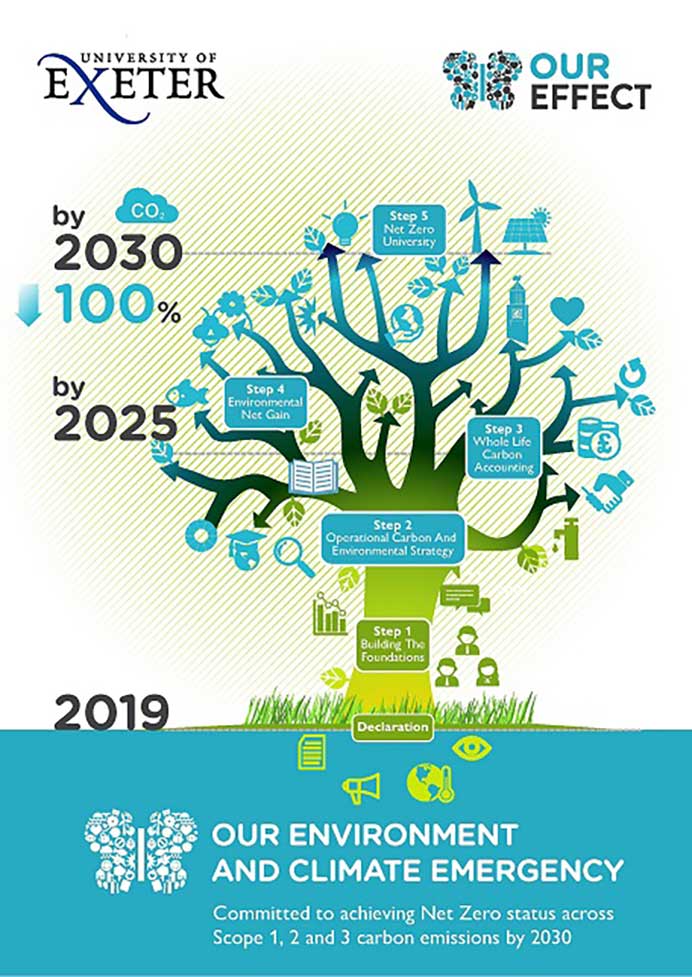 Sustainability
In 2019, the University of Exeter declared an environment and climate emergency. Following recommendations from a working party of 288 staff and students, a detailed response and plan was put in place.
Activity carried out so far, includes:
Commitment to achieve net zero status across scope 1,2 & 3 carbon emissions by 2030.
Reduction in fossil fuel use - a megawatt of solar power generated per year on Exeter campuses.
Created more than five acres of grassland and planted more than 400 trees.
More than 38,000kg of carbon has been saved though energy saving, recycling and meat-free days.
Set up the South West Environment and Climate Actions Network

(SWeCAN).
Future activity, includes:
Sustaining the 50% reduction in non-essential business travel.
Establishing a new programme of waste minimisation and management – in particular reducing food waste.
Adopting international guidance (ISO20400

) on sustainable procurement.

Introducing a programme of Climate Literacy Training across the University.
Our Environment – sustainable improvements across our campuses, include:
New grassland management to promote wild flower meadows and verges.
Tree planting schemes.
Bat boxes and bug hotels.
Community gardens.
Tree tags to highlight carbon sequestered.
Wellbeing and Trim Trails, find out more here.
Our Behaviour – continuous improvements to our operations include:
Refillable milk machines.
Zero waste section in campus supermarket.
Levy on single-use coffee cups to discourage use.
Vegan and vegetarian options.
Sustainable practises in our catering outlets and provision
Increased use of local suppliers
In line with the University's response to the environment and climate emergency, we recognise the importance of building sustainability into everything we do. Striving for a positive environmental impact through our services is a large part of our focus, and we like to encourage clients and visitors to do the same.
Whether promoting green travel options or sourcing recycled products for your event, we can work with you to implement sustainable changes. From compostable crockery to event specific recycle bins, there are a multitude of options that can help minimise the environmental impact of your event in Exeter.
Speak to your Event Specialist for advice on ways to make your event greener. They will be more than happy to make recommendations according to your requirements and budget.